This is - BY FAR - the best way to GET YOUR COPY of -- "god's favorite band"

(and you REALLY SHOULD because It's a good book — an important book -- it'll surprise, delight, and disgust you, … not only that, … it'll make you think ... and you'll like it),
PLUS when you subscribe, you also get TONS of great music and a WHOLE LOT more ...!

PLEASE CLICK ON THE VIDEO ABOVE!
(Or if the dancers distract you, read below!)
(Or if you're an over-achiever, do BOTH!)

You are invited to join the cool kids BACKSTAGE WITH DOC!

Subscribe right now and you'll receive:

► An INSTANT digital download of my new novel "god's favorite band" (Yay!) ($24.95 retail for the paperback on Amazon - at 592 pages, it's a monster!!!). You'll instantly receive a digital file formatted for either Kindle or iBooks (or any PC, tablet, or phone);

► My new "Top-20" album (My 20 best songs from a lifetime of songwriting, including some even my most ardent fans don't have, yet);

► My entire back-catalog (8 albums) including my previously unreleased all-instrumental album "Shut Up! & Go To Your Room!" as well as the Interns of Love Under the Covers album (the coolest cover songs ever) "Boy Meets Girl", as well as all the rest of my all-original albums;

► Exclusive access to streaming live performances like the ones we used to do in Key West;

► Immediate updates, as they occur, to all the cool new stuff (In the coming months, I'll be sharing, here exclusively, as we record the songs you're about to discover at the end of each chapter in "god's favorite band."

► In addition to your personal download of the book, you'll also receive the password to the private ONLINE version of "god's favorite band" where you can be part of the conversation: post comments and questions to the author and others about the story, the characters, or even the philosophy of COVERT ANARCHY, which you'll learn much more about as you read "god's favorite band";

► Be part of the solution: contribute your insights and suggestions to help Ringo and I figure out what to do next;

► A very cool surprise bonus ... after you've read the book (on the honor system). ;-)

BUT MORE IMPORTANTLY:

You'll be supporting and contributing to the amazing adventure Ringo and I are on,
which means, of course, that I WILL LOVE YOU FOREVER!
(That'll make more sense AFTER you read "god's favorite band".)

You can opt in or out at any time.
I will never share your email or any of your personal info with anyone.

(If for any reason, you'd prefer not to subscribe, you can still get a digital copy of the book in a bundle with Doc's 20-best songs for a no-muss, no-fuss, one-time price of $15.95 by clicking on the link below):
dallasdoctor.bandcamp.com/album/bundle-top-20-album-gods-favorite-band-novel

Or you can always get the paperback on Amazon ($24.95), but even if you do, you should subscribe anyway, because of all the EXTRA cool stuff you'll get (and it's only $5)!

BTW: If you do BOTH the paperback from Amazon AND you subscribe, I will send you a cool gift and a love-letter (Yes, I'm serious!)

Thank you sooooooo much!
Here's what you get:
All the new music I make

streaming instantly on your mobile device via the free Bandcamp app, and also available as a high-quality download.*

Access to subscriber-exclusive messages:

These back-catalog releases:
The satisfaction of knowing you're supporting me in a sustainable way.
Join:
For $5/month, you get everything above.

You're a subscriber

Thank you!

For $9/month, you get everything above, plus:

... the second (improved) edition of Dallas Doctor's first book:

'World Without Love: A Collection of Short Stories That Together Tell a Story'
(58 short stories) which by the way, will make a LOT more sense to you,
AFTER you've read 'god's favorite band'.

(You'll say: "oh, I see what he's on about, now ...").

You're a subscriber

Thank you!
* Downloads are DRM-free and available in MP3, FLAC and
more
.
Dallas Doctor
New York, New York
Dallas is not like the other guys.
Latest Release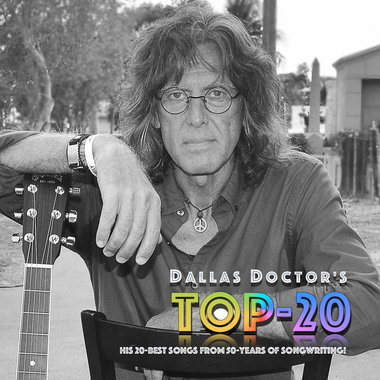 TOP-20